EDIT MAIN
DECA
DECA is a leadership organization for students at the high school or college level with an interest in marketing, management and entrepreneurship. Stanley High School's DECA chapter is one of 19 North Dakota high school and career and technology centers in the state. Ten colleges and universities also have a Collegiate DECA Chapter.
DECA focuses on leadership development, community service learning, career awareness and social responsibility. Members pay local, state and national dues to receive membership benefits. Chapter members qualify to compete at the local, state, and national levels in career related competitive events.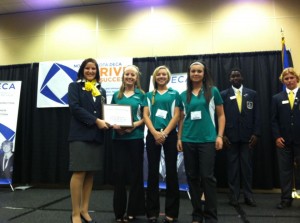 Stanley local officers receiving Charter from state officers.
Advisor:
Mrs. Nikki Heinle
2017-2018 Officers:
President: Brody Skaar
Secretary: Hayley Schmidt
VP of Social Media: Lacey Bell
Event Coordinator: Mallorie Dale
Chapter Assistant: Darcie Gauthier
FLC
2017 Fall Leadership Conference, Fargo
October 29-30th
The DECA officers will head to Fargo to participate in Fall Leadership Conference. While there the officers will learn more about DECA, network with other members, and develop skills that will help them build a better chapter.
The North Dakota State DECA officers will run the conference.