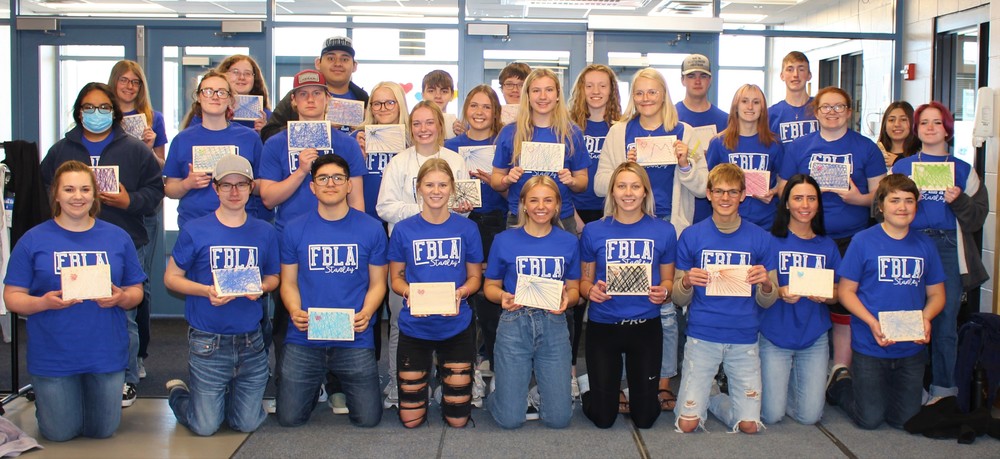 State FBLA Conference
Kendra Evensvold
Thursday, April 01, 2021
Member of the Stanley Future Business Leaders of America (FBLA) chapter attended the 54th annual North Dakota FBLA State Leadership Conference March 29 – April 1, 2021. With respect to COVID-19 guidelines and all of ND FBLA's stakeholders, organization leaders decided to hold the 2021 conference online, marking the state's second virtual FBLA state leadership conference. Over 60 FBLA chapters from across the state participated in this conference, connecting approximately 750 middle and high school students to test business skills against their peers from around the state.
The most exciting aspect of the conference is the competitive events program. Using online resources, students showcased the business skills they've learned in the classroom in a variety of individual, team, and chapter events. Students entered events such as accounting, computer applications, public speaking, job interview, website design, or business ethics. The culmination of the competitive events program is the awards ceremony where winners are recognized for their accomplishments and we find out who will represent North Dakota at the National Leadership Conference this summer. In addition to the competitive events program, students had the opportunity to attend workshops, vote for the 2021-22 state officer team, and network with members from around the state.
Thirty-one members from Stanley FBLA competed at the State Leadership Conference. To replace the three-day conference held in Bismarck, members spent the morning of April 1 at Foxden Farms in Stanley. Members made a string art design and competed in a break out box competition. Members then enjoyed Subway while watching the online awards session at the high school. The following members placed in the top ten in their event.
2nd Place Parliamentary Procedures – Raygen Lee, Macy Nesheim, Joaquin Salgado III, and Elle Sorenson
5th Place Local Chapter Annual Business Report – Macy Nesheim and Kaisa Mortensen
Corra Bell – 1st place Spreadsheet and 5th place Computer Applications
Isabelle Camino – 6th place Insurance and Risk Management
Ian Conard – 5th place Political Science
Jake Hernandez – 4th place Introduction to Information Technologies
Macee Jones – 4th place Introduction to Business Communication
Lara Lane – 2nd place Business Ethics
Piper Mann – 1st place Insurance and Risk Management and 6th place Computer Applications
Caleb Mortensen – 1st place Introduction to Computer Science and Coding and 2nd place Digital Citizenship
Ella Mortensen – 1st place Business Math and Financial Literacy
Alex Reynolds – 4th place Securities and Investments
Joaquin Salgado – 6th place Securities and Investments
Ava Schuster – 5th place Introduction to Parliamentary Procedure
Allyson Webster – 4th place Business Calculations
Stanley was awarded the Largest Local Chapter Membership in North Dakota with 71 members grades 9-12 and received Gold level status for the fifth straight year. The Stanley FBLA chapter placed 3rd in the state for raising money for the March of Dimes. Macy Nesheim and Joaquin Salgado were named Who's Who in Local Chapter. The following members completed the Future level of the Business Achievement Awards: Corra Bell, Jack Mortensen, Caleb Mortensen, and Ella Mortensen. Piper Mann and Allyson Webster completed the Business level of the Business Achievement Awards and Kaisa Mortensen, retiring State Webmaster, completed the Leader level of the Business Achievement Awards.
Next up for Stanley FBLA will be electing the local officers for the 2021-2022 school year and determining who will compete at the Virtual National Leadership Conference this summer.