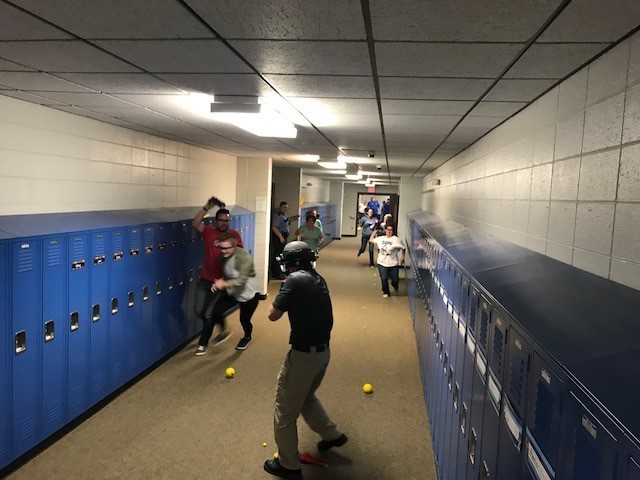 Stanley Teachers Train for Active Threat
Alecia Pulver
Thursday, August 30, 2018
It's every parent and teacher's worst nightmare – an active threat inside the school, putting the lives of students and staff in danger. Although we often times feel safer living in small town North Dakota, we need to be prepared for any type of danger to our students and staff. With the assistance of the North Dakota Highway Patrol and the Stanley City Police Department, Stanley Public School staff spent Monday, August 20th, training to respond to an active threat.
"Active Threat" is the term used describe any individual that may be presenting as a danger. This could be someone with a gun or any other type of weapon.
In the past, schools used a standard lockdown procedure where teachers lock the doors, turn off lights, and move under desks or to the corner of the room. National studies show this approach is not the most effective and often leads to high mortality rates.
This summer, Stanley School Administrators and members of the North Dakota Highway Patrol attended an ALICE training. This nationwide program, which meets the federal guidelines supplied by the US Department of Education and the Federal Emergency Management Agency, trains staff members to evaluate the situation and choose from a variety of appropriate responses. ALICE stands for Alert, Lockdown, Inform, Counter, and Evacuate. This is not a prescribed order, but rather a toolkit of options to employ in order to survive a threat.
Staff members learned that evacuation, if applicable, is the best way to survive an active threat. If evacuation is not possible, staff members may choose to lockdown and barricade to keep safe. As a last resort, techniques for countering the attacker can be employed.
Stanley staff members practiced multiple scenarios during the training. In each scenario, staff members encountered an 'active threat' who was armed with a gun throwing foam bullets. School employees practiced quickly barricading the classroom and distracting the shooter by throwing projectiles if the shooter managed to get the door open. In each situation, staff members learned ways to protect themselves and distract the intruder, if needed.
After the training, many Stanley staff members stated they felt better prepared, should they ever be faced with the danger of an active threat. They also said they felt safer and the training provided them with helpful options rather than passively waiting for help to arrive.
In addition to the ALICE training, staff members were also trained in a new software app that allows teachers to take class attendance, report any injuries, and reunify parents and children efficiently and safely in the event of an emergency.
Administration plans to continue this training throughout the school year. In future months, parents will be invited to the school to learn more about the ALICE methods. After parent informational opportunities, students will partake in age-appropriate lessons.
Please watch the Stanley School Website for information about future ALICE training information. Stanley Public Schools will continue to take the steps necessary to make school safety a high priority.
Thank you to MRC Global for donating safety glasses for staff members to wear while participating in the scenarios.