EDIT MAIN
Information
Information obtained from the National FBLA website.
About FBLA-PBL
Future Business Leaders of America-Phi Beta Lambda, Inc. (FBLA-PBL) is the largest career student organization in the world. Each year, FBLA-PBL helps over 230,000 members prepare for careers in business.
Mission Statement
Our mission is to bring business and education together in a positive working relationship through innovative leadership and career development programs.
FBLA-PBL's programs focus on:
Leadership Development—members develop essential soft skills by holding chapter officer positions at the local, state, and national levels; by networking with accomplished business professionals; and by participating in business-focused workshops, seminars, and academic competitions.
Academic Competitions—members demonstrate their business expertise at high-profile regional, state, and national competitive events. The top students are recognized with trophies and cash awards. Learn more about FBLA, PBL, and FBLA-Middle Level competitive events.
Educational Programs—members create career portfolios, enhance their knowledge with world-recognized skills certifications, and have access to select college scholarships. Learn more about educational programs for FBLA, PBL, and FBLA-Middle Level.
Community Service—members work with the March of Dimes to help end premature births by participating in awareness campaigns and the March for Babies fundraiser. Discover how FBLA, PBL, and FBLA-Middle Level members support the March of Dimes.
Awards & Recognition—members build a portfolio of accomplishments with a wide range of awards programs. Learn more about FBLA, PBL, and FBLA-Middle Level awards programs.
FBLA-PBL Divisions
Future Business Leaders of America (FBLA) for high school students, with over 214,000 members and more than 5,250 chapters.
FBLA-Middle Level (FBLA-ML) for junior high and middle school students, with over 21,500 members and more than 700 chapters.
Phi Beta Lambda (PBL) for college students, with over 10,000 members and more than 500 chapters.
Professional Division (PD) for FBLA-PBL alumni, business professionals, educators, and parents who support the goals of the association, with over 3,350 members.
Goals
Develop competent, aggressive business leadership.
Strengthen the confidence of students in themselves and their work.
Create more interest in and understanding of American business enterprise.
Encourage members in the development of individual projects that contribute to the improvement of home, business, and community.
Develop character, prepare for useful citizenship, and foster patriotism.
Encourage and practice efficient money management.
Encourage scholarship and promote school loyalty.
Assist students in the establishment of occupational goals.
Facilitate the transition from school to work.
FBLA-PBL Code of Ethics
I WILL be honest and sincere.
I WILL approach each task with confidence in my ability to perform my work at a high standard.
I WILL willingly accept responsibilities and duties.
I WILL seek to profit from my mistakes and take suggestions and criticisms directed toward the improvement of myself and my work.
I WILL abide by the rules and regulations of my school.
I WILL exercise initiative and responsibility and will cooperate with my employer and fellow workers.
I WILL dress and act in a manner that will bring respect to me and to my school.
I WILL seek to improve my community by contributing my efforts and my resources to worthwhile projects.
FBLA-PBL Creed
I believe education is the right of every person.
I believe the future depends on mutual understanding and cooperation among business, industry, labor, religious, family, and educational institutions, as well as people around the world. I agree to do my utmost to bring about understanding and cooperation among all of these groups.
I believe every person should prepare for a useful occupation and carry on that occupation in a manner that brings the greatest good to the greatest number.
I believe every person should actively work toward improving social, political, community, and family life.
I believe every person has the right to earn a living at a useful occupation.
I believe every person should take responsibility for carrying out assigned tasks in a manner that brings credit to self, associates, school, and community.
I believe I have the responsibility to work efficiently and to think clearly. I promise to use my abilities to make the world a better place for everyone.
Pledge
I solemnly promise to uphold the aims and responsibilities of Future Business Leaders of America-Phi Beta Lambda and, as an active member, I shall strive to develop the qualities necessary in becoming a responsible business leader.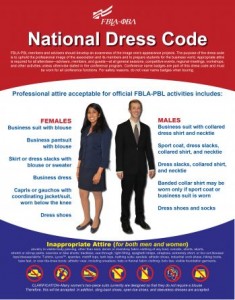 Business suit with collar dress shirt, and necktie or
Sport coat, dress slacks, collar shirt, and necktie or
Dress slacks, collar shirt, and necktie
Banded collar shirt may be worn only if sport coat or business suit is worn
Dress shoes and socks
Females
Business suit with blouse or
Business pantsuit with blouse or
Skirt or dress slacks with blouse or sweater or
Business dress
Capris or gauchos with coordinating jacket/suit, worn below the knee
Dress shoes
Inappropriate Attire:
Jewelry in visible body piercing, other than ears
Denim or chambray fabric clothing of any kind, overalls, shorts, skorts, stretch or stirrup pants, exercise or bike shorts
Backless, see-through, tight-fitting, spaghetti straps, strapless, extremely short, or low-cut blouses/tops/dresses/skirts
T-shirts, Lycra™, spandex, midriff tops, tank tops, bathing suits
Sandals, athletic shoes, industrial work shoes, hiking boots, bare feet, or over-the-knee-
boots
Athletic wear, including sneakers
Hats or flannel fabric clothing
Bolo ties
Visible foundation garments
CLARIFICATION—Many women's two-piece suits are currently designed so that they do not require a blouse. Therefore, this will be accepted. In addition, sling-back shoes, open-toe shoes, and sleeveless dresses are accepted.